The 53rd Annual Crosby Festival of the Arts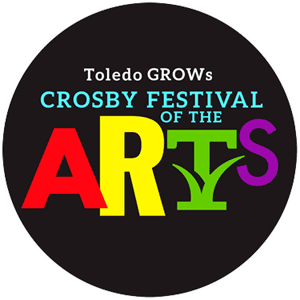 Northwest Ohio's premier fine arts festival took place on June 22 - 24, 2018 at Toledo Botanical Garden and featured the work of more than 200 artists from across the country. Support for the Crosby Festival of the Arts is provided by the Ohio Arts Council.
Crosby Festival of the Arts is a highly recognized fine art show. Since 1965, Crosby Festival has been held at Toledo Botanical Garden (formerly Crosby Gardens), set amidst the beauty of gardens and nature. Now celebrating its 53rd year, this festival is heralded as Ohio's oldest outdoor juried art festival and is THE fine art festival in Northwest Ohio. As the only show of its size and caliber in our region, participating artists are received enthusiastically by over 20,000 visitors and 700+ preview party guests each year.
Crosby Festival of the Arts (CFA) is a two day art show taking place Saturday & Sunday. A Preview Party is held the Friday before, so that Festival patrons can be the first to see and purchase art, while enjoying heavy hors d'oeuvres, cocktails, and live music.
We look forward to hosting the 54th Crosby Festival of the Arts on June 28 through June 30, 2019.  Artists and food vendors who are interested in applying can check Zapplication.org beginning in late October, 2018.
2018 Crosby Festival of the Arts Award Winners:
BEST IN SHOW
Luis Enrique Gutierrez - (Ceramics)
Ceramics
1st Place - Debra Steidel
2nd place - Kaname Takada
3rd place - Gail Russell
Fiber
1st place - Philippe Laine
2nd place - Jennifer Buddie Karas
3rd place - Frank Westfall
Glass
1st place - Mark Sudduth
2nd place - Berry Davis
3rd place - David Goldhagen
Graphics
1st place - Jesse Richard
2nd place - Paul Brand
Jewelry
1st place - Amy Beeler
2nd place - Linda Jones
3rd place - Lisa Williams
Mixed Media
1st place - Margaret Luttrell
2nd place - James Ardis
3rd place - Yu Chuan Liu
Painting
1st place - Sang Kim
2nd place - Michael Kersey
3rd place - Micah Mullen
Photography
1st place - Chris Maher
2nd place - David Reade
3rd place - Chris Gug
Sculpture
1st place - Ron Stinson
2nd place - Scott McMunn
3rd place - Thomas Yano
Wood
1st place - Neil Kemarly
2nd place - Carl Huth
3rd place - Ron & Christine Sisco